Copyright ©2018 Arizona Board of Regents. All rights reserved.
The Division of Community Engagement and Education for the UAHS Center for Applied Genetics and Genomic Medicine has partnered with the University of Arizona Banner Health All of Us Research Program to develop and implement a unique and culturally conscious approach to increase precision medicine literacy, particularly among underserved and marginalized populations. We have named this program "Precision Medicine Community Health Workers/Promotoras for All of Us."
With the expertise of an outstanding team led by Dr. Irma Ramos, a public health-oriented pediatrician, and Ms. Elvia Lopez, a community health education expert, this program was established in March 2018. Dr. Ramos serves as Program Director and provides expertise in the realms of public health genetics and community engagement/education utilizing community health workers. Ms. Elvia Lopez serves as Associate Director and provides expertise in the implementation of community research programs. Together, they have over 20 years of experience in this domain.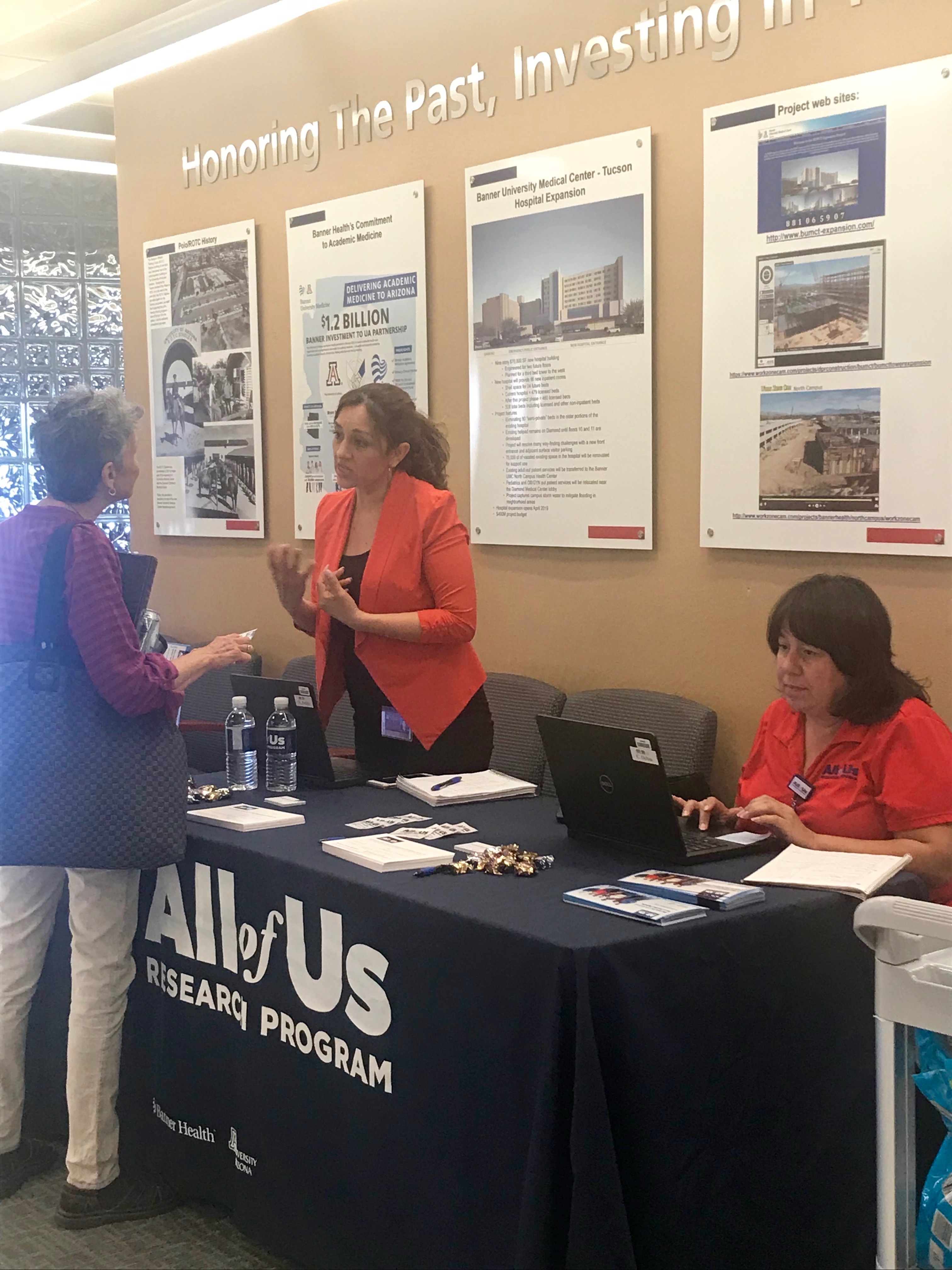 Community Health Workers (CHWs) are unique individuals whose training empowers them to interact with individuals and communities in a manner that engenders trust, engagement, and sustainability. CHWs rely on culturally-appropriate communication, utilize the same language spoken by their clients, and often reside in the communities that they serve. Because of these attributes, CHWs are in a strong position to follow up with their clients with relative ease and provide continuity of interaction. As such, they represent a true bridge between the community and the systems of education, academia, and health care. 
To our knowledge, this the first-ever community health worker program in Arizona focused on precision medicine. A total of six community health workers are already in place, and are focused on key areas of service delivery within our Tucson hospitals. This cohort combines many years of experience, including several research projects at the University of Arizona. The training program that was completed by our Community Health Workers included completion of mandatory and key certifications such as HIPAA, Native American Research, Conflict of Interest, Sexual Harassment, REDCap training, Cerner training, and All of Us National Consortium Training. The Center's faculty and staff will provide precision medicine education that will enable CHWs to become knowledgeable on this topic, and empower them to use their knowledge to continue to engage, recruit and retain participants to improve individual and community health outcomes and social determinants of health.