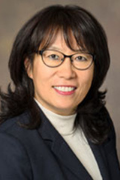 Having only been a member of the Center for Applied Genetics and Genomic Medicine since 2019, Professor Qin Chen, PhD, has already made an impact with her research in that short amount of time.
Dr. Chen's laboratory has been focused on studying the molecular biology of oxidative stress, and she has 15 years of experience in utilizing genomic and proteomic technology to address basic science questions. Dr. Chen has also been named the Holsclaw endowed professor in pharmacogenomics. In this role, Dr. Chen leads a collaborative research program focused on pharmacogenomics, where she is responsible for fostering new research and clinical initiatives to address knowledge gaps. She has assembled a team of junior scientists University-wide to enhance research efforts in clinical implementation of pharmacogenomics, biomarker discovery, electronic medical records research, systems pharmacology and computational biology.
Dr. Chen's ongoing projects related to Genomic Medicine include:
Nrf2, antioxidant and detoxification genes in heart failure patients, in an effort to understand whether genetic components contribute to heart failure.
Mitochondrial genes in heart failure patients, to address whether there is a genetic variation in mitochondrial genes contributing to heart failure.
Gene expression and genetic markers of sudden cardiac death.
Nrf2, antioxidant and detoxification genes in aging.