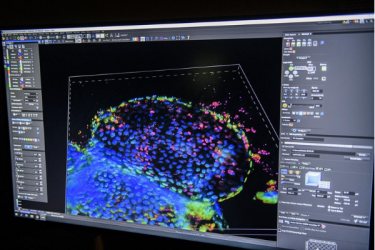 UArizona researchers recently discovered a promising new biomarker that appears in patients before stomach cancer develops.
Juanita Merchant, MD, PhD, is a gastric cancer expert whose research focuses on the molecular mechanisms of the disease.
Currently, diagnosis of stomach or gastric cancer requires the patient to undergo an upper endoscopy, where a doctor looks for signs of cancer and takes a tissue sample for analysis.
University of Arizona Health Sciences researchers recently discovered a promising new biomarker that appears in patients before stomach cancer develops. The biomarker, which can be identified through a simple blood test, may help with early detection of the disease and could lead to better treatment.
The Role of H. pylori
There are many potential causes of gastric cancer, but the National Cancer Institute cites infection with Helicobacter pylori – H. pylori for short – as the primary identified cause of certain types of stomach cancer. H. pylori is a bacterium that grows in the mucosa, the membrane layer that lines the stomach.
"This molecular signature that we discovered may help us see if patients have changes in their mucosa related to having H. pylori," said Juanita L. Merchant, MD, PhD, chief of the Division of Gastroenterology and Hepatology at the UArizona College of Medicine – Tucson, a cancer biology program researcher at the UArizona Cancer Center and member of the BIO5 Institute. "A blood sample would be less invasive and could then be a way to make the decision of whether we need to bring a patient in for an upper endoscopy."
The biomarker, MiR130b, is a microRNA – a small non-coding RNA molecule that can play an important role in regulating gene expression affecting disease development and progression. MiR130b can be produced by a group of immune cells called myeloid-derived suppressor cells (MDSCs), which are commonly associated with H. pylori infections.
The presence of MDSCs in the stomach correlates with early changes, seen even before a tumor develops, that can lead to gastric cancer long after H. pylori infection.
"Even though you get can get rid of the bacteria, oftentimes the infection itself has already initiated a cascade of events that may inevitably lead to cancer," said study collaborator Yana Zavros, PhD, associate head for research in the College of Medicine – Tucson's Department of Cellular and Molecular Medicine and the Cancer Center's shared resource director for Tissue Acquisition Cellular and Molecular Analysis. "That is why early detection is so important."
From Diagnosis to Treatment
Once diagnosed, gastric cancer can be difficult to treat. Immunotherapies with proven effectiveness in treating other types of cancer are not as successful against most GI cancers, including stomach cancer. The researchers believe these new findings, published in Gut, may help in addressing why other GI cancers are also resistant to therapy.
"The underlying mechanism by which a patient may not respond well in gastric cancer may be applicable in other organs, as well," Dr. Zavros said. "The way the cells interact with each other to render that patient resistant to therapy may be quite similar between gastric, pancreatic and colon cancers."
"There may be dual-purposes," said Dr. Merchant, who is involved in Partnership for Native American Cancer Prevention, a collaboration to study detection of the biomarker in Native Americans with H. pylori. "We can look at it as a biomarker to help us from a diagnostic perspective, but we can also look at therapies that can be developed based on what this microRNA itself is targeting."
Another project funded by the Cancer Center's "Sparking Bench-to-Bedside Team Science Project" award is building off the results of this study to explore therapies for pancreatic and gastric cancer.
"We want to find a way to reprogram the cancer cells or the immune cells within that patient's tumor environment in order to make the patient more responsive to the therapy," Dr. Zavros said. "A biomarker gives us a place to start."