Event Details
Genetics & Genomics Grand Rounds
September 15, 2021 - 4:00 pm
HSIB 880 or Zoom: https://arizona.zoom.us/j/89493356102
Presenter Details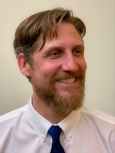 Director, University of Arizona Genetics Core
Member, UA Center for Applied Genetics and Genomic Medicine
Dr. Ryan Sprissler is a founding member of the Center for Applied Genetics and Genomic Medicine at the University of Arizona and lead scientist managing the University of Arizona Genetics Core facility specializing in cutting edge genomic technology. He has a particular expertise in clinical human genetic testing with over 10 years of experience leading CAP/CLIA testing in the University of Arizona's clinical genetic testing lab. Additionally, he has leveraged several private and public partnerships in the genomic testing space while managing many different workflows. With 18 years of experience in genetic assay design and testing he has an extensive knowledge of how to effectively design and execute experiments including all phases of documentation, analysis and reporting all while maintaining budgets and overall personnel needs.
Join us in-person in HSIB 880* or via Zoom using the link or phone number below:
https://arizona.zoom.us/j/89493356102
Telephone: 602-753-0140 | Meeting ID: 894 9335 6102
*Please note: masks are required in all University of Arizona classrooms to help prevent the spread of COVID-19.
Sponsored by:

Contact Info
For more information, please contact: